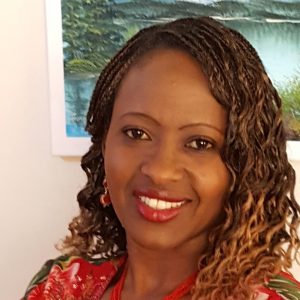 Ann Makena-Daggett Founder & Executive Director
Ann is a wife and a mother with her family at the chore of her ministry. By high school age, she knew she was called to serve God with her life in ministry to his people. She received the vision for City's Heart Cry Ministries in 1998 which was her second year in United States. At the time, she had no idea how this vision was going to happen and it took many years to unfold.  Ann kept praying about it and waiting on God for revelation. Eventually, she got City's Heart Cry Ministries registered and got 501(c)3 status.  Ann also works at bringing awareness  about the oppression of many women and girls as well as effects of poverty on children in Kenya.  Many children are abandoned due to a disease that can't be cured, or because their family doesn't have the means to care for them. Ann grew up in a village in Meru Kenya and saw many terrible situations.  The privilege she had of growing up in the village is by God's grace, the ability to go back and make a difference in the same places. "Growing up in the village helped me conceive what I wanted to do in the future; to help those without hope find hope." While many are understandably afraid to go to the rural areas, Ann is not afraid to go to there since that's where she was raised. She want to reach inside the people to pull out the greatness that they don't realize exists.
Ann's passion for children who don't have parents, as well as oppressed women and girls  grow stronger with every day. Her heart is to see as many people in these situations empowered through the word of God. She wants to reach those who have been broken in one way or another in this life and restore hope in them as she understands brokenness very well due to her life experience. Her hope for this organizations is to provide home, food, but most of all to build the confidence of these children and women from the inside out. She hopes to bring awareness of emotional, physical, and psychological effects of living in these situations with hopes to build a bigger team for their sake.
Ann is the wife of Steve and the mother of  beautiful children, son Nate and daughter Sally.  Nate, is the author of "Miracles still Happen, IF YOU DON'T BELIEVE IT-EXPLAIN ME."  He is very active in CHCM,  and named the home for orphans coming up. He himself has a heart for children less fortunate. This is a lot coming a young fourteen year who has faced death multiple times and God every single time has delivered him. He truly has a heart for these young children. Sally her daughter is a happy young girl who has a passion to help  children. She love to write, read and can't wait to read to the children. She is involved in a pageant that is focused on leadership and professionalism for young girls. She is one of the girls representing Minnesota with the talent division on national level in the pageant competition, (Nov' 2016). She loves her friends and adores her big brother.  "I am truly blessed that God has given me these amazing children, who bless me more than I could have ever imagined."  Ann and her family live in Minnesota and go to an amazing church that is a big part of their life. Ann parents are wonderful people, She had a very close upbringing with them. Her mother influenced Ann in so many ways; one being her love for their community and her job helping as a social worker. Her father was an accountant, a great dad and raised them along side their mother every day. He disciplined, provided and protected us which meant the world to Ann and her siblings. The difficult situations Ann witnessed growing up and the he hardships she has encounter in her adult life have helped her see past her own pain and see others' pain. Her motto in this ministry is "Pray for others, and also do what you can to help."  
Through the struggles Ann has endured in her adult life, she has stood on the scripture "I am not saying this because I am in need, for I have learned to be content whatever the circumstances. I know what it is to be in need, and I know what it is to have plenty. I have learned the secret of being Content in any and every situation, whether well fed or hungry, whether living in plenty or in want. I can do all things through Him [Christ] who gives me strength." This is Philippians 4:11-13. Through many years, this has kept her heart centered and open.
Ann is a writer and literature has always been a big part of her life. She is an author of  various inspirational books which more information is found at www.makenaministries.com. Growing up, Ann wrote and recited poetry  as well as solo verse speaking competing at national level in Kenya during middle school and high school. In primary school (middle school) she acted one of the major roles in the play and they also competed to national level in Kenya. She was in Drama club and school choir through her school years. In leadership, she was elected the chair lady of young Christian Students (YCS) in her senior year of high school as well as nominated in leadership team for the school. After high school, she joined Meru technical Institute  Kenya, where she was also elected the chair lady of students counsel in her senior year. In her early years in America, Ann started a bible study group which met in her apartment once a week for prayer and studying the word of God. 
Ann is a believer in education as scripture says, "15 Study to shew thyself approved unto God, a workman that needeth not to be ashamed, rightly dividing the word of truth." (2Timothy 2:12 KJV). She is ordained as a Non-Denominational Christian minister. She has a MA In Ministry Leadership,  MA in Theological studies, BS in counseling Psychology and a BA in Divinity. She has also has done Two units of Clinical pastoral education. Ann worked for Teen Challenge of Minnesota, and volunteered for Love Lines Crisis Center/ Phone Christian Counseling.  Ann worked as a full time Hospice chaplain providing spiritual and emotional support for patients and their families as well as grief counselling after death of a loved one. She also had the honor to officiate many funerals in her ten years as a chaplain.  Currently Ann is very involved in charity work. Her plea to you all is, "While we can't change the world, we can make a difference in one person's life at a time together."
Ann's life scripture is, "Trust in the Lord with all your heart, And lean not on your own understanding; 6 In all your ways acknowledge Him, And He shall direct[a] your paths." (Proverbs 3:5-6 NKJV). God bless you all.
For more about me and family, visit www.makenaministries.com
BELOW ARE SOME MEDIA LINKS
TV SHOW INTERVIEW- https://youtu.be/ZJaowWHMLYc    
(More links and information) –www.makenaministries.com