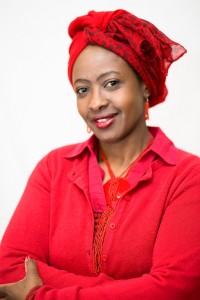 Ann Makena-Daggett Executive Director
My name is Ann. I am a wife and a mother. My family is my first and greatest calling of my life. As for ministry, I received my call at young age and by high school age, I knew I was called to serve God with my life although I did not have understanding in many ways. I received a vision City's Heart Cry Ministries in 1998. I didn't know how I was going to accomplish this dream of mine, I had only been in America for two years. I kept praying about my vision as well as trying to come up with a concept. I eventually turned my dream into a reality, I finally got City's Heart Cry Ministries registered and I've been running the company ever since. I'm always trying to bring awareness to the hardships faced by women and children every day of their lives living in Kenya.  Many children are abandoned due to a disease that can't be cured, other children are abandoned because their family didn't have the means to take care of them.  I grew up in a village in Meru Kenya and saw many terrible situations, I realized at a young age that I wanted to help women and children. I feel actually privileged to have grown up in this village. This helped me understand what I wanted to do in the future; to help people from suffering. I am not afraid to go to the villages since that's where I was raised. I want to make a difference there. I want to reach inside of people to pull out the greatness that they don't realize exists.
My passion for children who don't have any parents as well as women grow stronger with every day. My passion is to see as many people in these situations empowered through the word of God. I want to reach those who have been broken in one way or another in this life, to restore hope. I want to provide assistance through homes, food, but most of all I want build the confidence of these women and children from the inside out. One of my hopes is to bring awareness of emotional, physical, and psychological effects of living in these situations.
I am the wife of Steve and a mother of  beautiful children, my son Nate and daughter Sally.  My son Nate, is the author of "Miracles still Happen, IF YOU DON'T BELIEVE IT-EXPLAIN ME."  He is very active in CHCM,  and named the home for orphans coming up. He himself has a heart for children less fortunate. This is a lot coming a young fourteen year who has faced death multiple times and God every single time has delivered him. He truly has a heart for these young children. Sally my daughter is a bubbly young six year old who has a passion to help these children. She love to read and can't wait to read to the children. She is involved in a pageant that is focused on leadership and professionalism for young girls. She is one of the girls representing Minnesota with the talent division on national level in the pageant competition, (Nov' 2016). She loves her friends and adores her big brother. I am truly blessed that God has given me these amazing children, they bless me more than I could have ever imagined. I've already said that I am glad for how I was raised not only for others but for how to raise my children, how to be the best mother I can be. My family and I live in Minnesota and go to an amazing church that is a big part of our life. My parents are wonderful people, I had a very close upbringing with them. My mother influenced me in so many ways; one being her love for our community and her job helping people by being a social worker. My father was an accountant, he is very dear to me and raised me along side my mother every day. He disciplined, provided and protected me which meant the world to me and my siblings. I have to say my mother is an ongoing role model of love and kindness, and how she exuded these qualities to everyone she meets. Through the hardships I have faced in my adult life and my loving parents standing by me I can see past my own pain and see others' pain. My motto in this ministry is "Pray for others, then do what you can to help."  
I have faced many hardships in my adult life but through all of this I've stood on a scripture "I am not saying this because I am in need, for I have learned to be content whatever the circumstances. I know what it is to be in need, and I know what it is to have plenty. I have learned the secret of being Content in any and every situation, whether well fed or hungry, whether living in plenty or in want. I can do all this through Him [Christ] who gives me strength." This is Philippians 4:11-13, this through my years has kept my heart centered and open.
I enjoy writing and I always find time to write, literature has always been a big part of my life. I am an author of  various inspirational books and if you want to know please feel free to visit www.makenaministries.com. Through my childhood literature was always important, I wrote and recited poetry  as well as solo verse speaking on a national level in Kenya during middle school and high school. In primary school (middle school) I was a major actress in a play that was also at the national level. I was in drama club as well as choir through all these years. I was also elected as chair lady of young Christian Students (YCS) in my senior year of high school.
I am a believer in education, I am an ordained as a Non-Denominational Christian minister. I have a MA In Ministry Leadership,  MA in Theological studies, BS in counseling Psychology and a BA in Divinity. I have also done Clinical pastoral education, I worked for Teen Challenge of Minnesota, and volunteered for Love Lines Crisis Center/ Phone Christian Counseling. At Meru Technical College in Kenya I did two years of intro. to accounting (KATC) and I was also elected chair lady of the student council  in my senior year. After my years of learning I have had ten years of experience as a full time Hospice chaplain. Now I am engaged in writing as well as leading affairs of CHCM. 
I have always had a heart for children, my passion is to see children raised in a way that they can become what God truly wants them to become. It is important to me that children are raised correctly and equipped to handle life because this life is full of challenges. I believe that every child in this world deserves to have a loving home that they can call their own. They need to have unconditional support and love as well as a peaceful environment to grow to fulfill their God given purpose. By raising children one by one in a better way, we can make the world a better place. My heart especially goes out to women in Kenya that have suffered domestic abuse or are oppressed and don't know or have the means to get out of the situation. I have personally suffered abuse and I personally understand how difficult it is for the women involved and what a toll it takes on them. I never want any woman to give up, or believe that they deserve this life; that they can't do anything better than the life they live. The truth is, they can do better and they are better than this life. They deserve more, because they are worth it. There is hope. my plea for everyone is this; you personally can't change the world, but you can help that one person's life become better in one way or another. 
For more about me and family, visit www.makenaministries.com
BELOW ARE SOME MEDIA LINKS
TV SHOW INTERVIEW- https://youtu.be/ZJaowWHMLYc    
(More links and information) –www.makenaministries.com